Spreebären - Visit to Cologne
---
Click on a pic to enlarge
On the first weekend of September 2000 we had our trip to Cologne to meet the "Kölner Bartmänner" (Cologne Bears). Their welcome was typical of all the bears of Cologne: cordial, warm, bearish.
On the first evening we visited the bear bars "Cox" (former "Römerstuben") and "Zipps". Also the bar "Hands" (former "Platzjabbeck") with its well known "adventure area" was very impressive: hairy, bearded and bearish guys everywhere.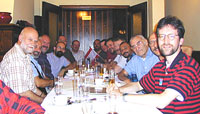 On the second day we had a short trip to Heeren (Netherlands), and in the evening we enjoyed a very good dinner with the Cologne Bears. Altogether we were 22 bears on this evening, and of course we visited all the bear bars again in this night.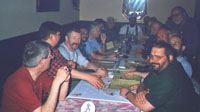 On the last day we had our breakfast at "Quo Vadis" and looked back to a very nice weekend before we drove back to Berlin. Special thanks to Herbert who was our host on this weekend and who gave to all of us a feeling of coming home.
---
---